Regional Medical Director, Mental Health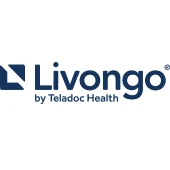 Livongo
United States · Remote
Posted on Thursday, November 2, 2023
Teladoc Health is a global, whole person care company made up of a diverse community of people dedicated to transforming the healthcare experience. As an employee, you're empowered to show up every day as your most authentic self and be a part of something bigger – thriving both personally and professionally. Together, let's empower people everywhere to live their healthiest lives.
Summary of Position
This position will support the Senior Medical Director with implementing and directing policies and procedures, ensuring exceptional medical quality and service is delivered to patients. Represents focused leadership in the creation of an employed model supporting provider needs, process innovation and provider mentoring. Acts as the "voice of the provider" to ensure an effective experience for this population resulting in:
increasing provider satisfaction
Increasing provider accountability
Increased provider support
Continuous clinical and service improvement
Essential Duties and Responsibilities
Accountability for all W2 and 1099 providers in their region/product area.
Accountable for KPI's and Quality measures in their region/product area.
Actively engaged with all W2's.
Monthly meetings and communications.
Tracking individual metrics
Enabling support and improvement plans
Mentoring and coaching new hires
Support for multiple license-type providers
Available for clinical consultation
Conflict resolution
Ensuring compliance with new initiatives
Other duties as assigned.
Supervisory Responsibilities
Yes
Qualifications Required for Position
Minimum of 5 years clinical experience.
Minimum of 3 years as a clinical leader with gradually increasing levels of leadership experience, preferably in a multi-specialty fast paced environment.
Requires critical thinking skills, decisive judgement, and the proven ability to manage multiple administrative and clinical responsibilities efficiently and effectively.
Flexibility in supporting the changing needs of a rapidly growing company Position relies heavily upon communication; must have excellent oral and written communication skills to succeed.
Ability to function in a fast-paced environment and to be able to meet deadlines.
Medical Degree in Psychiatry with current/continuous board certification.
Proven passion for clinical excellence, professional integrity, and ability to collaborate positively with clinicians and non-clinicians.
Proven ability to manage multiple responsibilities efficiently and effectively.
Knowledge and skill in effective written and verbal communication.
Flexibility in supporting the changing needs of a rapidly growing company.
The base salary range for this position is $210,000 - $230,000. In addition to a base salary, this position is eligible for performance bonus, RSU's, and benefits (subject to eligibility requirements) listed here: Teladoc Health Benefits 2023. Total compensation is based on several factors including, but not limited to, type of position, location, education level, work experience, and certifications. This information is applicable for all full-time positions.
Why Join Teladoc Health?

A New Category in Healthcare: Teladoc Health is transforming the healthcare experience and empowering people everywhere to live healthier lives.

Our Work Truly Matters: Recognized as the world leader in whole-person virtual care, Teladoc Health uses proprietary health signals and personalized interactions to drive better health outcomes across the full continuum of care, at every stage in a person's health journey.

Make an Impact: In more than 175 countries and ranked Best in KLAS for Virtual Care Platforms in 2020, Teladoc Health leverages more than a decade of expertise and data-driven insights to meet the growing virtual care needs of consumers and healthcare professionals.

Focus on PEOPLE: Teladoc Health has been recognized as a top employer by numerous media and professional organizations. Talented, passionate individuals make the difference, in this fast-moving, collaborative, and inspiring environment.

Diversity and Inclusion: At Teladoc Health we believe that personal and professional diversity is the key to innovation. We hire based solely on your strengths and qualifications, and the way in which those strengths can directly contribute to your success in your new position.

Growth and Innovation: We've already made healthcare yet remain on the threshold of very big things. Come grow with us and support our mission to make a tangible difference in the lives of our Members.
As an Equal Opportunity Employer, we never have and never will discriminate against any job candidate or employee due to age, race, religion, color, ethnicity, national origin, gender, gender identity/expression, sexual orientation, membership in an employee organization, medical condition, family history, genetic information, veteran status, marital status, parental status or pregnancy.
Teladoc Health respects your privacy and is committed to maintaining the confidentiality and security of your personal information. In furtherance of your employment relationship with Teladoc Health, we collect personal information responsibly and in accordance with applicable data privacy laws, including but not limited to, the California Consumer Privacy Act (CCPA). Personal information is defined as: Any information or set of information relating to you, including (a) all information that identifies you or could reasonably be used to identify you, and (b) all information that any applicable law treats as personal information. Teladoc Health's Notice of Privacy Practices for U.S. Employees' Personal information is available at this link.