Clinical Product Strategy Lead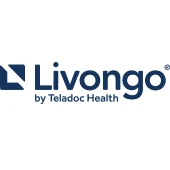 Livongo
Product
United States · Remote
Posted on Thursday, November 2, 2023
Teladoc Health is a global, whole person care company made up of a diverse community of people dedicated to transforming the healthcare experience. As an employee, you're empowered to show up every day as your most authentic self and be a part of something bigger – thriving both personally and professionally. Together, let's empower people everywhere to live their healthiest lives.
The Opportunity
Teladoc Health is transforming how people access and experience healthcare. Teladoc Health offers a whole person virtual care platform that empowers all people everywhere to live their healthiest lives by transforming the healthcare experience, from acute and primary care to chronic care, mental health, and specialty care. Recognized as the world leader in virtual care, we are partnering with millions of people.
As a core member of the cross-functional product development team, the Product Strategy Lead – Clinical is responsible for the clinical effectiveness of the product portfolio aligned with Member Engagement and Outcomes, working with our Chief Medical Officer and team to align with Teladoc's clinical strategy and clinical quality requirements.
You will provide tremendous value to our hypertension strategy primarily focused on our Chronic Condition Management offering, but extending to primary care as you provide strategic leadership for whole person experience across Teladoc Health's services.
In this role, you will work across organizational boundaries with clinical teams including enterprise clinical strategy, health equity, clinical operations and clinical quality to create a unified clinical product strategy. The successful candidate will have a Medical Degree and clinical experience ideally in Internal Medicine, Family Medicine, Cardiology, or Nephrology and a strong track record, building relationships and delivering results in a highly matrixed organization and in a fluid, fast-paced environment.
This meaningful, exciting work reports into the Sr, Director Product Strategy – Clinical. The position is remote with potential for travel up to 20% of time.
Essential Duties and Responsibilities
Collaborate with clinical teams across Teladoc, synthesizing clinical outcome drivers and quality/operational requirements into an aligned product strategy to deliver high-impact clinical outcomes, client value and business results at scale. This role/individual will be accountable for the clinical effectiveness of the product.

Synthesize input and needs of multiple stakeholders to ensuring that that relevant cross-organizational partners are involved in product decisions and recommendations are representative of diverse audience.

Support the development of actionable roadmaps and clinical product requirements that delivers against OKRs and work with the Chief Medical Officer to align with enterprise clinical strategy, taking into consideration resource constraints and timelines.

Partner with cross functional teams including product management, engineering, design, data science, content, operations, clinical quality, and marketing teams to successfully bring new products to market and enhance existing products to address the needs of members, support the work of clinicians and care teams, and align with our company objectives.

Ensure that all clinical products meet regulatory requirements and comply with industry standards.

Monitor and analyze market and competitive trends to identify potential opportunities and threats to the company's clinical product portfolio.
Qualifications
A medical degree and 3+ years of clinical practice experience is a requirement for this role, board certification in Internal Medicine, Family Medicine, Cardiology, or Nephrology strongly preferred.

A minimum of 5+ years of experience in product strategy or product management, with a focus on digital health products and services.

Propensity for curiosity, forward-thinking vision and ability to see beyond traditional models of care.

Strong prioritization, time management, and organizational skills. You thrive in a fast-paced, dynamic environment with multiple priorities and deadlines.

Strong understanding of the healthcare industry, including trends, challenges, and opportunities.

Experience working in a regulated industry, with a strong understanding of FDA and other relevant regulations.

Excellent communication skills, with the ability to communicate complex clinical concepts to non-clinical audience.
The base salary range for this position is $200,000 - $220,000. In addition to a base salary, this position is eligible for performance bonus, RSU's, and benefits (subject to eligibility requirements) listed here: Teladoc Health Benefits 2023. Total compensation is based on several factors including, but not limited to, type of position, location, education level, work experience, and certifications. This information is applicable for all full-time positions.
Why Join Teladoc Health?

A New Category in Healthcare: Teladoc Health is transforming the healthcare experience and empowering people everywhere to live healthier lives.

Our Work Truly Matters: Recognized as the world leader in whole-person virtual care, Teladoc Health uses proprietary health signals and personalized interactions to drive better health outcomes across the full continuum of care, at every stage in a person's health journey.

Make an Impact: In more than 175 countries and ranked Best in KLAS for Virtual Care Platforms in 2020, Teladoc Health leverages more than a decade of expertise and data-driven insights to meet the growing virtual care needs of consumers and healthcare professionals.

Focus on PEOPLE: Teladoc Health has been recognized as a top employer by numerous media and professional organizations. Talented, passionate individuals make the difference, in this fast-moving, collaborative, and inspiring environment.

Diversity and Inclusion: At Teladoc Health we believe that personal and professional diversity is the key to innovation. We hire based solely on your strengths and qualifications, and the way in which those strengths can directly contribute to your success in your new position.

Growth and Innovation: We've already made healthcare yet remain on the threshold of very big things. Come grow with us and support our mission to make a tangible difference in the lives of our Members.
As an Equal Opportunity Employer, we never have and never will discriminate against any job candidate or employee due to age, race, religion, color, ethnicity, national origin, gender, gender identity/expression, sexual orientation, membership in an employee organization, medical condition, family history, genetic information, veteran status, marital status, parental status or pregnancy.
Teladoc Health respects your privacy and is committed to maintaining the confidentiality and security of your personal information. In furtherance of your employment relationship with Teladoc Health, we collect personal information responsibly and in accordance with applicable data privacy laws, including but not limited to, the California Consumer Privacy Act (CCPA). Personal information is defined as: Any information or set of information relating to you, including (a) all information that identifies you or could reasonably be used to identify you, and (b) all information that any applicable law treats as personal information. Teladoc Health's Notice of Privacy Practices for U.S. Employees' Personal information is available at this link.