Senior Associate Professional Services Consultant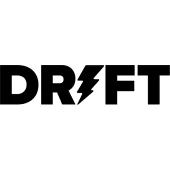 Drift
Sales & Business Development
Tampa, FL, USA · Boston, MA, USA · San Francisco, CA, USA · Remote
Posted on Thursday, November 9, 2023
About Drift
Drift®, the Conversation Cloud company, helps businesses connect with people at the right time, in the right place with the right conversation. Using the Drift Conversation Cloud, businesses can personalize experiences that lead to more quality pipeline, revenue and lifelong customers. Drift brings Conversational Marketing, Conversational Sales and Conversational Service into a single platform that integrates chat, email and video and powers personalized experiences with artificial intelligence (AI) at all stages of the customer journey. More than 5,000 customers use Drift to deliver a more enjoyable and more human buying experience that builds trust and accelerates revenue. Representing less than 1% of unicorns led by Latino founders, Drift is building an equitable, enduring company to transform the way businesses buy from businesses.
About the role/ About the team
We put the customer at the center of everything we do, and everyone who works at Drift has a part in driving customer success. The goal of the Consulting Team is to ensure our customers launch Drift successfully, adopt it into their organization, and achieve the results and value they want in partnership with the Professional Services team and Drift as a whole. We are currently looking to grow our team of Professional Services Consultants to support the client onboarding process and deliver ongoing optimization engagements to ensure customers realize the full potential of their Drift investment.
What you'll be doing on the team:
Support the onboarding of new Drift customers to deploy their Revenue Acceleration strategy including configuration, coaching, go-live support, and optimization.
Partner closely with our Customer Success Managers to solidify and execute client deployment strategy based on customer goals and KPIs.
Monitor new client performance and address any open issues to ensure timely resolution and great customer experience.
Work directly with customers and partners to create and optimize Drift chat workflows, copy, and configuration for customers with a paid professional services package.
Partner with customers and Customer Success Managers to understand the language they use to market and sell their product, and adopt and evolve this messaging for use in Drift chat workflows.
Develop a solid understanding of your customer's marketing and sales tech stack, including the information that flows through it to be pushed into and pulled out of Drift to drive accurate attribution.
Work closely with the product and engineering team to influence new product features and functionality based on customer feedback.
In one month you'll
Attend comprehensive organization training and learn the Drift story, our leadership principles, how we communicate and do work, as well as our goals for the future.
Experience in-depth product training, including learning how to use the product for your own business.
Gain a detailed understanding of the customer lifecycle, with emphasis on post-sale onboarding and success processes.
Have 1:1 meetings with your direct manager and meet with other key players on the customer team.
Shadow colleagues and learn best practices for what makes Drift Customers successful.
Deliver customer onboarding and bot optimization calls.
Begin to be fully responsible for your very own portfolio of customers and for running calls independently!
By month 3 you'll
Continue to master your knowledge of the Drift product, have a deep understanding of Conversational Marketing, Conversational Sales and become a bot-building expert.
Fully understand our internal ecosystem and be able to collaborate cross-functionally to provide the best in class sales process.
Work with your customers daily, delivering value and helping them achieve their goals.
Should be meeting your business goals and customer KPIs.
By month 6 you'll
Consistently deliver value to customers through building and optimizing playbooks.
Master conversational sales and marketing practices.
Consistently meet or exceed your professional services goals.
Support complex paid services engagements for our largest customers.
Work with your manager to identify a plan for continued growth.
Bring your thinking, strategy, and ideas to the team to advance our creative culture and vision for the future.
About you and what type of skills you'll need:
2-3 years experience in Onboarding, Implementation or Customer Success (MarTech preferred)
Hands on experience with Marketing Platforms (e.g. Drift/HubSpot/Salesforce/Outreach)
Solid knowledge demand generation funnels and tactics used at each stage within the funnel.
Energetic and concise phone skills, excellent listening skills, strong writing skills
Ability to work across teams including marketing, sales, IT and operations
Quick learner, always looking to embrace and master new technologies
Ability to prioritize, multitask and organize workload



Bonus: Experience with a company practicing account-based marketing
Drift is committed to being an equal opportunity employer.
We know that applying for a new job can be intimidating. But guess what? At Drift, there is no such thing as an "ideal candidate." We believe in the power of teamwork -- and in the desire to learn something new every day. We believe in hiring people, not just skills. Take it from our Founder.
If this sounds like a company you would like to join and a role you would thrive in, please don't hold back from applying! Whatever skills you bring to the table or background you're coming from, we welcome you to start a conversation with us. We need your unique perspective for our continued innovation and success. We're looking forward to learning more about you!
For Colorado residents: The base salary range for this role's listed level is currently $65,600 to $82,000 for Colorado residents only. Through a review of equity with other team members, market data, experience, knowledge, skills and the abilities of the applicant, the level and salary ranges may change. Sales roles are also eligible for incentive pay targeted at a percentage of the base salary. Disclosure as required by the Colorado Equal Pay for Equal Work Act, C.R.S. § 8-5-101 et seq.
For California candidates, attached is the link to Drift's Candidate Privacy Notice.